Rirkrit Tiravanija
Tiravanija's work is fundamentally about bringing people together. The artist's installations of the early-1990s involved cooking meals for gallery-goers.In one of his best-known series, begun with pad thai (1990) at the Paula Allen Gallery in New York, he rejected traditional art objects altogether and instead cooked and served food for exhibition visitors. He recreated the installation in 1992 his solo show at 303 Gallery (curry) 2007 at the David Zwirner gallery in Chelsea using the original elements and renaming the work untitled (Free/Still).
The Untitled 1990 (Pad Thai) was more performance and in a way more Allan Kaprow work, Because it was about not seeing, but being seen. He did the simple thing he normally do and it was cooking. From this point on things got evolved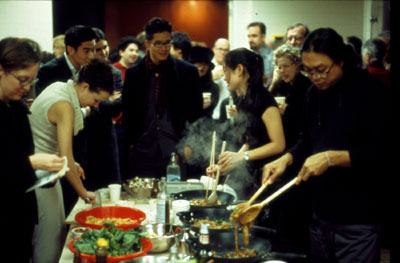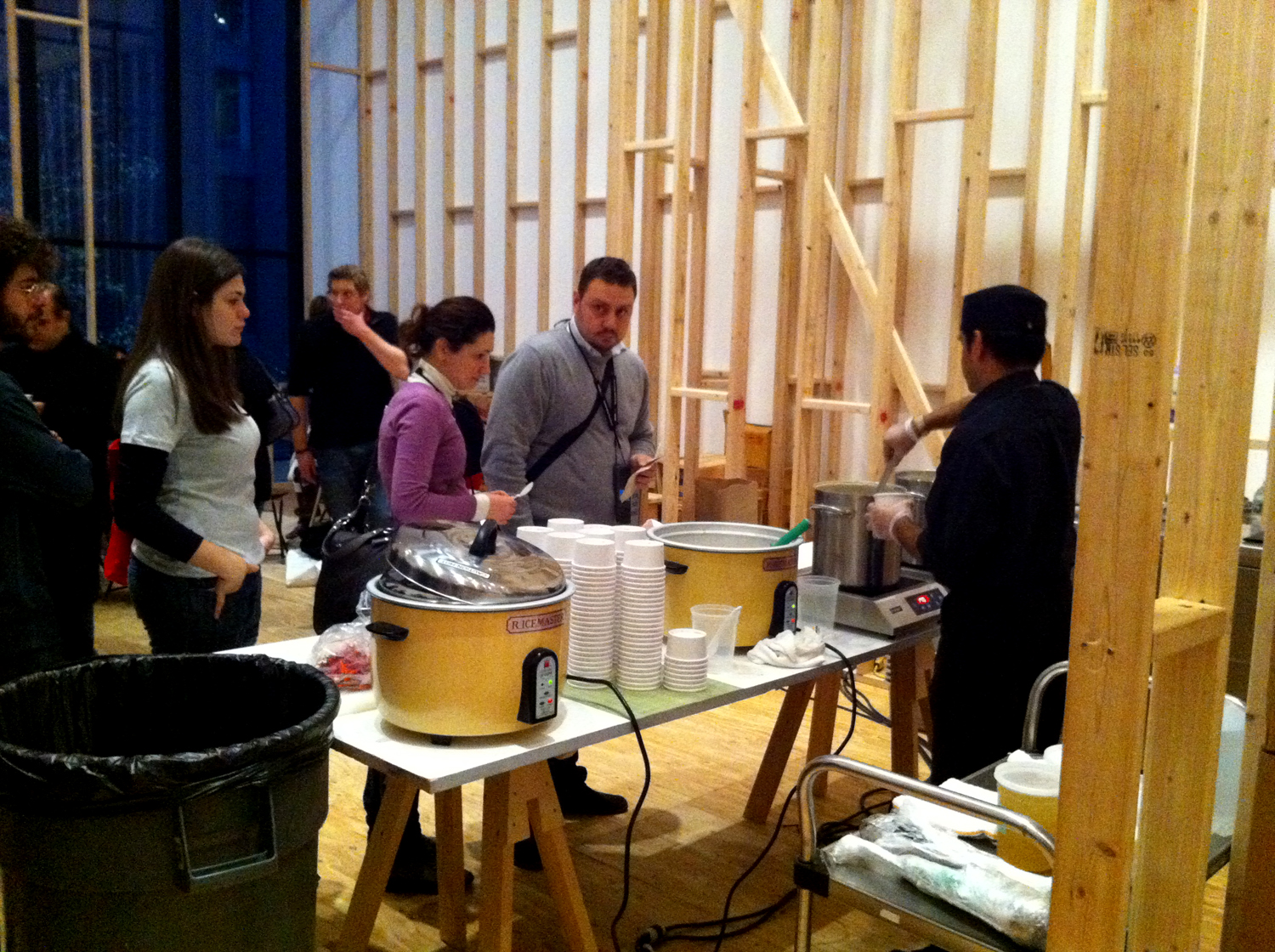 From Hans Ulrich Obrist's the conversation series.
"Basically i started to make things so that people would have to use them, which means if you want to buy something then you have to use it. It's not meant to be put out with other sculpture or like another relic and looked at, but you have to use it. I found that was the best solution to my contradiction in terms of making things and not making things. Or trying to make less things, but more useful things or more useful relationships."
"It is not what you see that is important but what take place between people."
This lead to the Relational aesthetics or Relational art. Originally observed and highlighted by French art critic Nicolas Bourriaud.
"a set of artistic practices which take as their theoretical and practical point of departure the whole of human relations and their social context, rather than an independent and private space."
Artists included by Bourriaud under the rubric of Relational Aesthetics include Rirkrit Tiravanija, Philippe Parreno, Carsten Huller, Henry Bond, Douglas Gordon and Pierre Hughe.
In 2004 the Solomon R. Guggenheim Museum in New York honoured Tiravanija with the Hugo Boss Prize and presented an exhibition of his work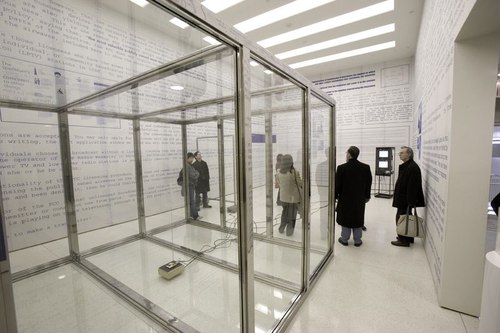 Untitled 2005 (The Air Between the Chain-Link Fence and the Broken Bicycle Wheel)
The installation is basically a bare-bones statement of the practical fact that anyone who wants to participate in shaping the communications media that are shaping the world at large can do so. "Everyone is an artist" was Joseph Beuys's potent rallying cry in the 1960's and 70's, which made artists and "the people" one. Mr. Tiravanija, who has learned much from Beuys, adds his own variation: "Everyone is a broadcaster. Make this transmitter at home."
At the same time, he has customized his own version with a couple of features that are not necessarily meant for replication. One is the glass box encasing the transmitter. Its presence is symbolic, a reminder of how resources that should be available free to everyone become the closely guarded valuables of a privileged few.
Tiravanija goes further than many other artists in that he repeatedly throws into question the relationship between artist, audience and institution. He is doubtless wary of even these labels. He has tried to blur the boundaries of art and non-art. After Beuys, we are all artists now – doesn't necessarily lead to a fulfilling experience for those of us who just want to stand and look, or pace in silence scratching our heads.