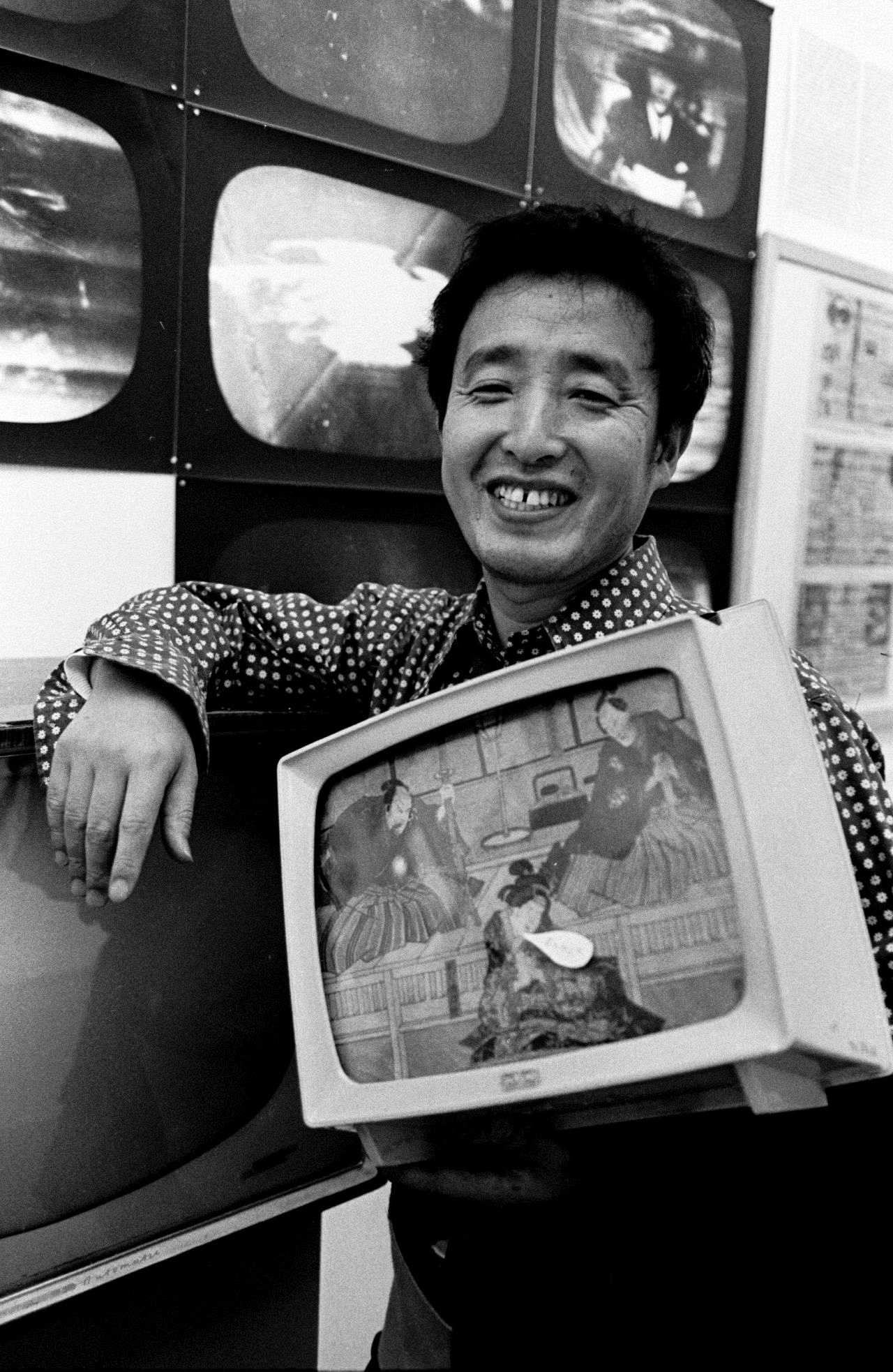 From Asia through Europe to the United States, Nam June Paik was a Korean American artist. Born in Seoul in 1932, the youngest of five siblings. His father owned a major textile manufacturing firm. As he was growing up, he was trained as a classical pianist. In 1950, Paik and his family had to flee from their home in Korea, during the Korean War. His family first fled to Hong Kong, but later moved to Japan. Six years later he graduated from the University of Tokyo where he wrote a thesis on the composer Arnold Schoenberg.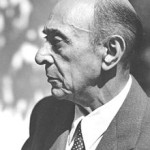 (Schoenberg was also an influential teacher of composition; his students included Alban Berg, Anton Webern, Hanns Eisler, Egon Wellesz, and later John Cage, Lou Harrison, Earl Kim, Roberto Gerhard, Leon Kirchner, and other prominent musicians. Many of Schoenberg's practices, including the formalization of compositional method and his habit of openly inviting audiences to think analytically, are echoed in avant-garde musical thought throughout the 20th century.)
Paik then moved to West Germany to study music history with composer Thrasybulos Georgiades at Munich University. While studying in Germany, Paik met the composers Karlheinz Stockhausen and John Cage and the conceptual artists George Maciunas, Joseph Beuys and Wolf Vostell and was from 1962 on, a member of Fluxus.
Park's earlier work is influenced from his music practical, conceptual art, avant-garde musical and Dada movement. In a 1960 piano performance in Cologne, he played Chopin, threw himself on the piano and rushed into the audience, attacking Cage and pianist David Tudor by cutting their clothes with scissors and dumping shampoo on their heads.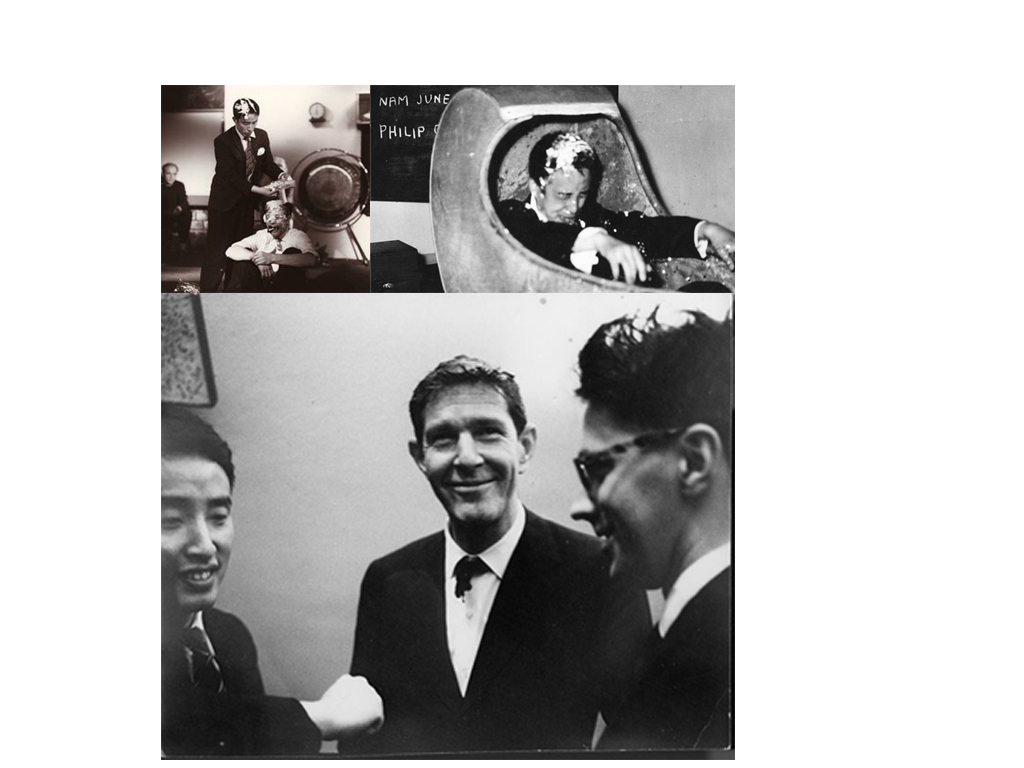 His performance was in order to underscore the revolutionary mode of thinking about the practice and process of art. As we can see, What is influenced his work. All the An-ti art period gave him an inspired. He is a rebellion artist who become a big movement of Fluxus.
During 1963 and 1964 the engineers Hideo Uchida and Shuya Abe showed Paik how to interfere with the flow of electrons in color TV sets, work that led to the Abe-Paik video synthesizer, a key element in his future TV work and his key role in transforming the electronic moving image into an artist's medium are part of the history of the media arts.
He used new media at that time in application to telecommunications. Using television, as well as the modalities of singlechannel videotape and sculptural/installation formats, he imbued the electronic moving image with new meanings.
In his 1974 proposal "Media Planning for the Postindustrial Society – The 21st Century is now only 26 years away" to the Rockefeller Foundation he used a slightly different phrase, "electronic super highway"
"Electronic Superhighway" by Nam June Paik
"The building of new electronic super highways will become an even huger enterprise. Assuming we connect New York with Los Angeles by means of an electronic telecommunication network that operates in strong transmission ranges, as well as with continental satellites, wave guides, bundled coaxial cable, and later also via laser beam fiber optics: the expenditure would be about the same as for a Moon landing, except that the benefits in term of by-products would be greater."
Nam June Paik – Good Morning Mr. Orwell (1984)
In 1984, Paik aired Good Morning, Mr. Orwell, a live link between WNET New York, Centre Pompidou Paris, and South Korea. With the participation of John Cage, Salvador Dalí, Laurie Anderson, Joseph Beuys, Merce Cunningham, Allen Ginsberg and Peter Orlovsky, Philip Glass, George Plimpton, and other artists
Technical problems plagued the show from the beginning. Different versions of the show were seen in the U.S. and France because the satellite connection between the two countries kept cutting out, leaving each side to improvise to fill the gaps, surrounded by shifting geometric shapes. Edges become soft, then hard. Images overlap. Some take on new configurations. Seven screens repeat the same pictures simultaneously. Although the viewer doesn't know what to expect. These elements became an influential to Video art , Glitch art. Fluxus does exist until now.
(Paik was a lifelong Buddhist who never smoked or drank alcoholic beverages, and never drove a car.)